Corporate Greeting Cards
Sending business greeting cards or corporate greeting cards to your valued customers, colleagues and business associates, you are making a statement about your business commitment and dedication.

Maintain a friendly relationship and customer loyalties with customers, business partners, you can send your business gratitudes thru a corporate greeting cards.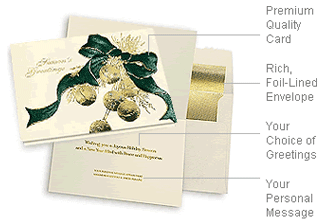 Gallery Collection offers your business: thank you cards, corporate birthday cards, business appreciation cards, sympathy cards, congratulations card with your business image. Each card consists of

- Premium Quality Card
- Rich, foil-lined envelope
- Your choice of greetings
- Your personal message


Send customized corporate or business greeting cards, especially one that includes your Company Logo will give your company that personal touch that is needed in today's working community. A sincere birthday wish or holiday message is a professional and appropriate way to reach out to staff, co-workers and customers.

Choose from wide selection, impressive size, premium quality, choice of greetings and customizable options make our cards the best in the business.