Holiday & Christmas Cards
Sending corporate christmas and holiday cards helps to remind your customers, colleagues, bussiness associates of your best wishes for them. A professional holiday greeting cards deliver the message of your dedications and commitments.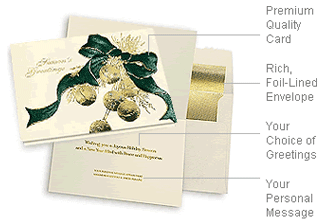 Gallery Collection offers high quality personlaized christmas and holiday cards. Most of the cards are created with features that illustrate quality - rich embossing, foils, deckle edges, and lined envelopes.

You can customize your corporate christmas cards by professionally printing your company name or message inside, signatures, printing your return address on the envelope flap, and even logos.Each card consists of

- Premium Quality Card
- Rich, foil-lined envelope
- Your choice of greetings
- Your personal message


Choose from among Christian religious images, patriotic themes, Peace on Earth motifs, glimpses of nature and wildlife, urban silhouettes, country vistas, homey warmth, and symbols of the season that are both timeless and sophisticated.

Check out the charming Photo cards with Holiday and Christmas festive framing for the photos you affix. There are practical Calendar cards to keep your business or corporate name and contact information before their eyes all year long. And, there are glorious Thanksgiving cards to reach them ahead of all others.